MELODY'S MOSTLY musical day
Follow Melody through her day: waking up, eating breakfast, playing, and visiting Grandma for a piano lesson and a sleepover. It pairs a different song to accompany the story — from Tchaikovsky to Mozart to Gershwin.
Performed by renowned Steinway Artist, Jenny Lin on Steinway Spirio, Melody's Mostly Musical Day is written by Ben Finane and illustrated by Mikela Prevost, an album proudly by published by STEINWAY & SONS.
Join us for a fun and lively musical Sunday afternoon with your child, guided by Teacher Yong Hang and Teacher Hui Hui.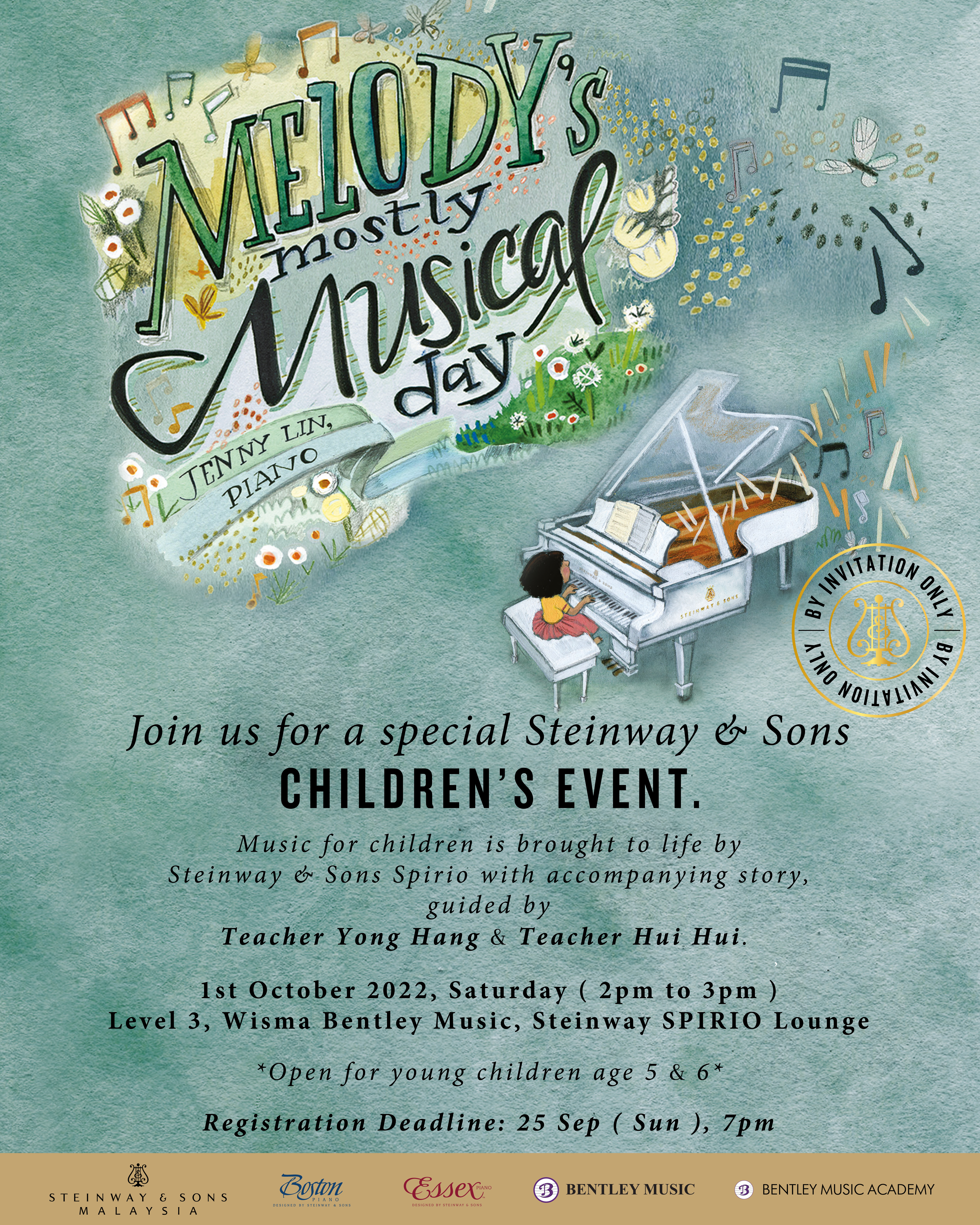 RULES & REGULATIONS
Attire: Smart casual.
This event is open to children age 5 and 6 only, and each child MUST be accompanied by a parent.
All children and parents are required to wear masks at all times throughout the event.
All children MUST bring their own floor mat.
Only maximum 6 children will be allowed in the STEINWAY SPIRIO LOUNGE.
Food and drinks are not allowed in the STEINWAY SPIRIO LOUNGE.
The registration closes on 25th SEPTEMBER 2022, 7pm.
Based on first come first serve basis, no correspondence will be entertained should your registration is not successful.
Incomplete application form will be rejected.
Punctuality is of utmost important.
BENTLEY MUSIC reserves the right to use any photos or videos of the children taken during the event for Steinway & Sons brand promotional purposes.
BENTLEY MUSIC reserves the right to change any rules and regulations without prior notice.
FAQ
WHAT CHILDREN DO IN MELODY'S MOSTLY MUSICAL DAY EVENT?
MUSIC FOR CHILDREN BROUGHT TO LIFE BY STEINWAY AND SONS SPIRIO WITH ACCOMPANYING ARTWORK AND STORY. THE CHILDREN WILL BE GUIDED BY TWO MUSIC TEACHERS TO HAVE FUN MUSICAL ACTIVITIES WHILE IMPARTING THEM WITH SOME MUSIC KNOWLEDGE.
DO YOU HAVE TO PAY FOR THIS EVENT?
NO, THIS THIS EVENT IS BROUGHT TO YOU BY STEINWAY MALAYSIA WITH THE PURPOSE TO ENRICH THE MUSIC JOURNEY AND EXPERIENCES OF THE CHILDREN.

HOW LONG IS THIS EVENT?
REGISTRATION STARTS AT 2:00PM. THE MUSIC SESSION STARTS PUNCTUALLY AT 2:15PM AND ENDS AT 3:00PM.

HOW MANY CHILDREN PER MUSIC SESSION?
TO ENSURE BEST MUSICAL EXPERIENCES, WE ONLY ALLOW 6 CHILDREN WITH ONE PARENT ACCOMPANYING EACH CHILD PER SESSION.

WILL THIS EVENT BE DROP-OFF SESSION?
NO, ONE PARENT MUST ACCOMPANY YOUR CHILD THROUGHOUT THE WHOLE SESSION.

IS THERE ANY REPLACEMENT FOR THE CHILDREN WHO MISSED THE SESSION?
UNFORTUNATELY NO. PLEASE MAKE SURE YOU AND YOUR CHILD ARE AVAILABLE AT THE EVENT DATE AND TIME BEFORE YOU REGISTER.